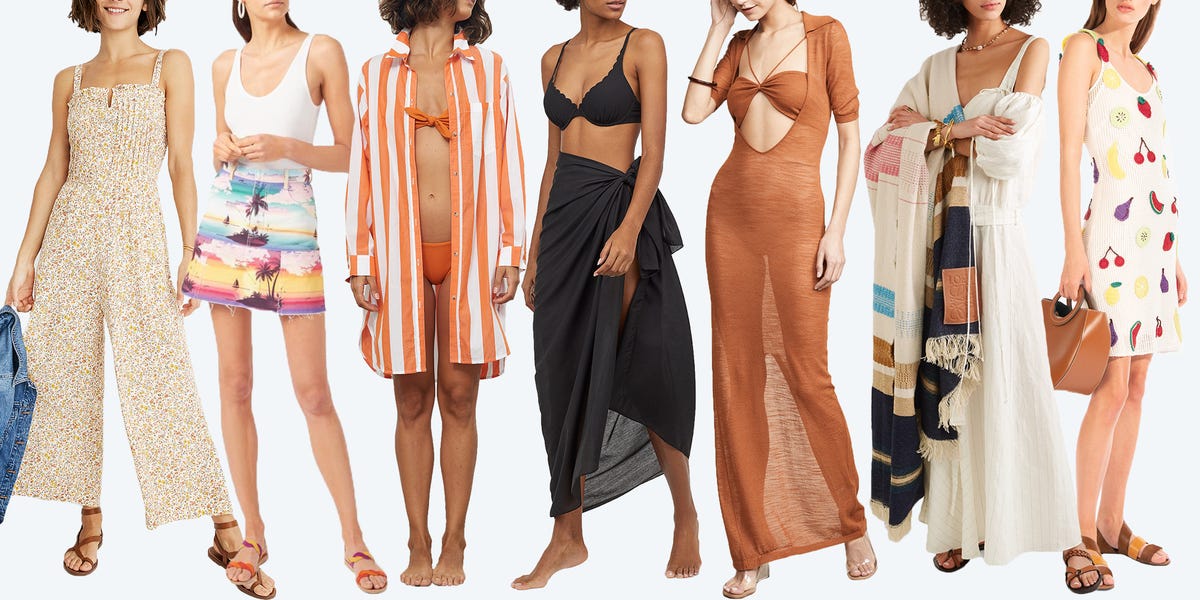 The summer sun is out, temperatures are rising, and it's time to hit the beach! However, you don't want to spend your time frolicking in the waves in any old swimsuit. Summer is your time to shine: why not invest in a beach day outfit that truly stands out? From wonderful one-piece suits with exciting cut-outs to cute kimono cover-ups, there are plenty of ways to elevate your swim ensemble. If you're not sure where to start when it comes to assembling your next beach day outfit, look no further: we're here to guide you through all the hottest swim trends of the summer season.
A Reminder: Every Body is a Beach Body
Don't let outdated beauty standards tell you what to wear this summer. Every body is a beach body: no matter your size, you deserve to get out, put on a cute suit, and enjoy some much needed summer fun. You don't have to look a certain way to rock a bikini, or any style of suit for that matter. You should feel comfortable to try different looks and find which one you enjoy wearing the most. If there's a style you've been nervous to try, take a chance and jump off the deep end into fashion exploration: who knows, you may just find your next signature swim style.
Exciting New Swimwear Styles
If you've stuck with the same style of swimsuit year after year, this summer just might be the perfect time for an upgrade. Some of the most popular swim styles today include:
Cut-Out One-Piece Swimsuits
One-piece swimsuits don't have to be simple. If you're looking for a one-piece suit with a silhouette that stuns, try one that features cute cut-out patterns. Cut outs help to draw the eye to the parts of your body that you want to accentuate: for instance, you could choose a one-piece suit with midsection cut-outs to draw attention to your waist. If you wanted to show a little bit more skin, you could opt for a suit with both waist and hip cut-outs to accentuate every inch of your flawless curves. There are also many cut-out options with mesh appliques, which show a little bit less skin, but still add a pop of peekaboo fun that can easily elevate a one-piece swimsuit look.
High-Waisted Bikini Bottoms
If you've stayed away from two-piece swimsuits because you're not a fan of low-rise style bikini bottoms, we've got a solution for you: high-waisted bikini bottoms! Bikinis with high-waisted bottoms allow the freedom and comfort of a regular bikini, but provide more coverage to the mid-section, resting just above the belly button. High-waisted bikini bottoms can be a great option if you have a pear or hourglass figure, as the high waistline cinches the waist in and helps to draw attention to the curves of the hips.
Additionally, just because a bikini bottom is high-waisted doesn't mean you can't show some skin. Many high-waisted options come in a high-cut style as well, which serve to show off the hips and elongate the legs. There are also a number of cheeky high-waisted options if you want to show a bit of booty as well.
Amazing Swim Accessories
Once you've found the perfect swimsuit to wear this summer season, it's time to find the best accessories to pair with it!
Kimono Cover-Ups
Kimonos are a form of soft, airy robe that can be worn as a stylish cover-up on your next beach day. Kimonos come in a variety of styles: if you want to show off your suit, you can opt for a cropped option in a color that pairs well with your swimwear underneath. If you're looking for a cover-up that can give you more full-body coverage from the sun, you can choose a maxi-length kimono that's perfect for relaxing under an umbrella on the sand.
Rhinestone Cover-Up Skirt
For a bold and bedazzled cover-up option, try a rhinestone studded cover-up skirt. You'll be sure to sparkle in the summer sun with this fun and flirty swim style. Just remember to reapply sunscreen to your hips and legs throughout the day, as these cover-ups are see-through!
In Conclusion
Summer is the perfect time to enjoy a day at the beach in a swimsuit you truly love to wear. There are so many excting new styles to try this season, including cut-out one pieces and high-waisted bikini bottoms. Plus, it's fun to try cute swim accessories like kimonos and rhinestone skirt cover-ups. Feel free to explore styles you've yet to try and show off your beautiful beach body in looks that make you feel comfortable and confident. So what are you waiting for? It's time to get your suit on and let the beach fun begin! What swim styles are you excited to try this summer?