When you were young, did you would make Christmas Lists??

Lord knows I did! I'd painstakingly draw the tree with crayons, detailing the ornaments down to the star, then list my most coveted toys below. I was always a dreamer!
Today Adri and I are taking it back, giving you our fashionable Christmas wish lists–a few well edited items we'd love if a recession proof Santa swung by.

For me, a coat is the most important item in the winter months: you wear it all the time, and it's usually the most memorable element of your outfit. I have my eye on a classic Burberry that will help me weather the Parisian chill while staying chic! My old Marc Jacobs black leather tote has taken a beating, so I'd love to upgrade with a Chocolate Guccissima Handbag, then of course replenish my stock of jeans, cashmere, and classic shoes while throwing in a few affordable wildcard items for style:
1. Plastic Island Color Blocked Dress, $93. 2. Burberry Wool Coat, $1,050. 3. J.Crew cashmere hoodie, $188. 4. Loeffler Randal Hope D-Ring Bootie, $625. 5. 7 For All Mankind Women's "Flynt" Jeans in New York Dark Wash, $155. 6. Christian Louboutin Decollette Leather Pump, $575. 7. Chocolate Guccissima Handbag, $1,950. 8. Kenneth Jay Lane Pave Crystal Earrings, $105. 9. Marc by Marc Jacobs Lock It Up Magazine Clutch, $260.
I'm also a self confessed TV junkie and being abroad doesn't help my addiction! I'm set on getting full seasons of my faves: Curb your Enthusiasm, Absolutely Fabulous, and Family Guy (I already have the Sex and the City Box Set!):
1. Curb Your Enthusiasm, $16. 2.Absolutely Fabulous Season 5, $19. 3. Family Guy Volume 6, $21.
Adriana says, "Claire was definitely more of an artiste–I was the one who'd spend hours looking through catalogs, marking them so my mom would make no mistake about what I wanted!"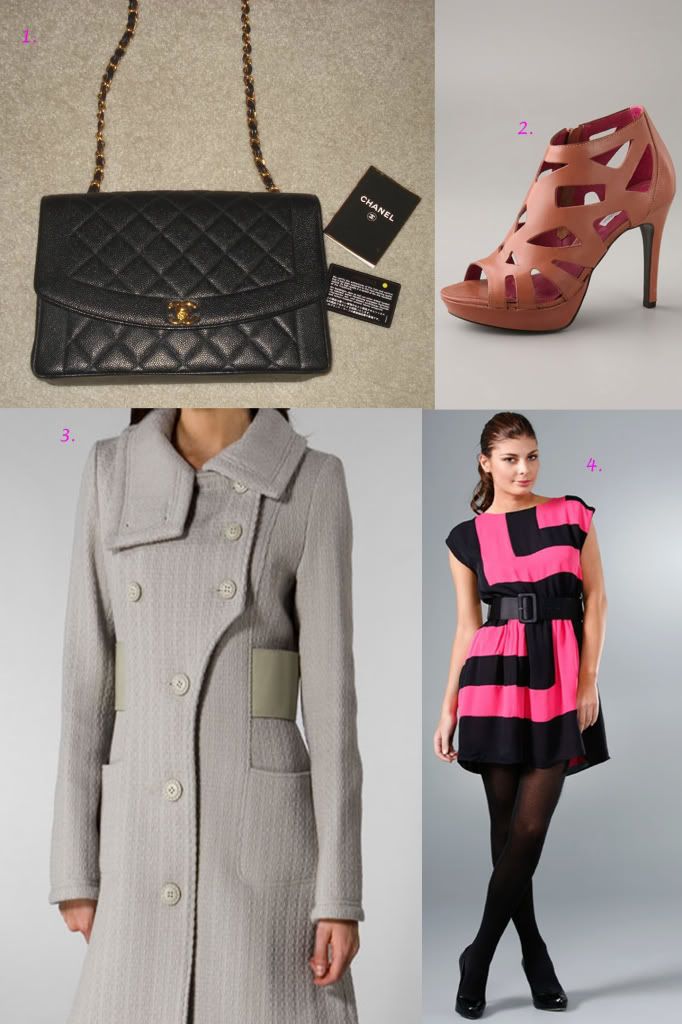 "
Right now what I'd love more than anything is an
oversized, vintage Chanel caviar bag
: decadent and classic, yet roomy enough for everything I haul around daily! I also just recently bought myself an early Christmas gift:
a Mackage coat
(obsessed with them). And, of course, there's always some
pair of shoes
or
outfit
I have on the brain.
"
"Next to all things style, my passion is reading and there are quite few books I can't wait to devour (and re-devour–I'm a re-reader) over the holiday. I've been a fan of "True Blood" since Episode 1 and *heart* the books the series is based on."
1. Sookie Stackhouse Boxed Set, $32 2. The Brief Wondrous Life of Oscar Wao, $8 3. The House of Gucci, $11 4. The Hemingses of Monticello, $22
Cute Picks!
What's on your Christmas List?